Podcast (blackmirror): Play in new window | Download
Subscribe: Apple Podcasts | Android | Email | Google Podcasts | Stitcher | Spotify | RSS
If you could rely on technology to find you the perfect mate – like a 99.8% match – would you do it? That's the story behind Season 4, Episode 4 of Black Mirror, "Hang the DJ."

Synopsis: Paired up by a dating program that puts an end date on relationships, Frank and Amy begin to question the system's logic. (Spoilers ahead.)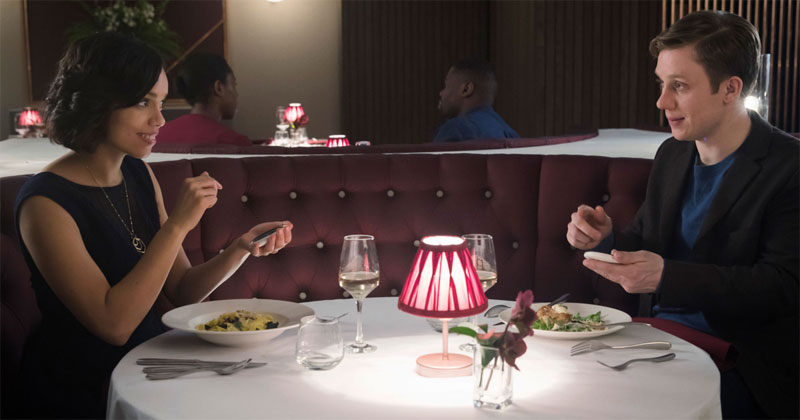 Join Shannon and Fadra as we discuss online dating, the pros and cons of staying with someone who might not be your perfect match, and how the characters in "Hang the DJ" handle their "assignments."
We also discuss the origin of the title, which comes from a song by The Smiths called "Panic."
A Look in the Mirror
How far off is this technology? Online dating pioneer eHarmony announced it is developing an AI-enabled feature which nudges users to suggest meeting in person after they have been chatting in the app for a while. And British dating app Loveflutter plans to use AI to analyse chats between its users to determine their compatibility and suggest when they should meet.
Our Reflection
We're rating every episode to help you decide which are must-sees, good to watch, or could be skipped.
Shannon: Good to watch
Fadra: Good to watch
We'd love to hear your feedback on any Black Mirror episode! Chat with us online @StingerPodcast everywhere.