When we launched our podcast, several of our friends and family had questions like, "What exactly is a podcast?" and "How can I watch?"
So we thought we'd take a minute to explain. Remember those analogies you studied for your SAT test? Here's one for you:
blog:newspaper as podcast:radio show
The newspaper used to be the primary way people would get daily news and entertainment in print. Then blogs came around and pretty much anyone with an internet connection could share their thoughts and/or expertise.
Radio shows were once the most common way a person could talk to a far-reaching audience and share ideas and knowledge. But now we have podcasts and, again, anyone with an internet connection can talk with others on any topic desired.
It's an amazing world we live in.
A podcast is just like a radio show, but it lives on the internet and you can listen to it anytime, or anywhere! Here's a quick-and-easy tutorial to get you listening to our awesome podcast in no time.
How to Listen to a Podcast on Your Smartphone
In today's increasingly mobile world, lots of people listen to podcasts on the go. Just download a podcasting app on your smartphone (the Apple Podcasts app is already pre-installed for you on iOS), search for STINGER, and hit subscribe. Check your settings to ensure the latest episodes are automatically downloaded and notifications are turned on. You'll get a notification to listen every time we upload a new episode. Yay!
Once you have a podcasting app and have subscribed, you can listen in your kitchen, bedroom, living room … with headphones or earbuds or without … in your car, on the treadmill, or with your Google Home or Amazon Echo.
How To Listen to a Podcast on Your Computer
You can also enjoy our podcast directly from your computer. Simply visit our podcasts page, click on a topic you like, and click "play" on any episode. It's the little triangle inside the black circle shown below: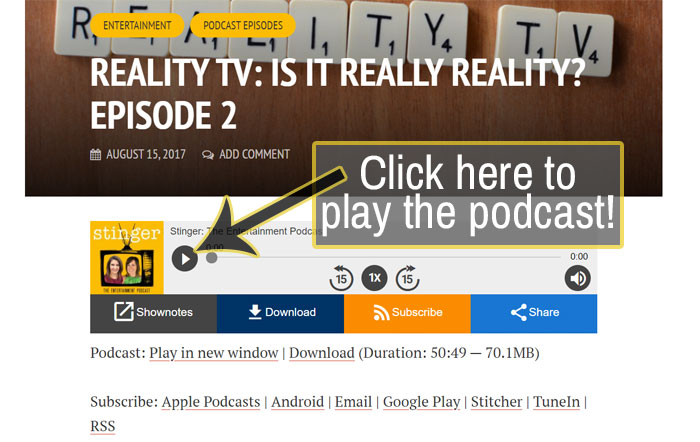 Once you click on that triangle, you'll hear our lovely voices!
If you don't want to sit in front of your computer to listen, try hooking up a set of external speakers and listen while cooking dinner or cleaning the house. Multitasking rules.
Shannon & Fadra