Podcast (ahs): Play in new window | Download
Subscribe: Apple Podcasts | Android | Email | Google Podcasts | Stitcher | RSS
Introducing the latest podcast from Stinger Universe – The Supreme American Horror Story Podcast!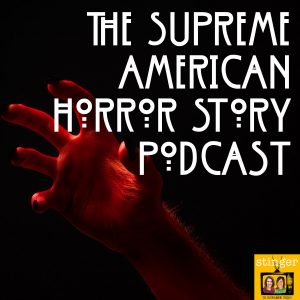 Shannon will be joined by her teenage daughter Cassie, an American Horror Story superfan. How does Shannon feel about the show – and about watching sometimes uncomfortable scenes with her teen daughter? Tune in to find out! Things might get awkward.
Shannon & Cassie will be recapping and discussing season 8 of the FX series, which will be a highly anticipated crossover between the "Murder House" and "Coven" seasons.
All our favorite actors will be returning including Jessica Lange, Sarah Paulson, Evan Peters, Kathy Bates, Emma Roberts, Taissa Farmiga, Connie Britton, Frances Conroy, Lily Rabe, and many more. We'll also see Joan Collins joining the cast this season.
What do we know about the plot so far? Well, we know the story centers around an apocalyptic event. We think this may have something to do with Michael Langdon, the son of Tate Langdon and Vivian from season one, "Murder House." Michael, who was born out of a union of "flesh and spirit," may just be the sign of the end of times.
Join us every Friday for recaps, discussion theories, and fangirling!