Podcast: Play in new window | Download
Subscribe: Apple Podcasts | Android | Email | Google Podcasts | Stitcher | Spotify | RSS | More
Fadra is on vacation this week and Shannon is joined by Jeff & Jennifer from Pod of Thrones to discuss the epic, final season of HBO's Game of Thrones.
Jeff & Jennifer started podcasting when they found themselves with too much free time while their kids (five total between them) were away.  That led them to start The Kid-Free Weekend, where they talk about pop culture, politics, parenting, and more. They also started a podcast called Pod of Thrones – centered specifically around their love of Game of Thrones.  You can find them on Twitter: @podofthrones (Jeff) and @kidfreeweekend (Jennifer), and you can find everything else you need to know on their website at podofthrones.com.

Please subscribe to Stinger on Apple Podcasts or your favorite podcatcher app. Subscribing is free and ensures you'll be notified when new episodes are published. And if you enjoy Stinger, please rate and review us and tell your friends! Thank you for listening to Episode 45 of Stinger TV and Movie Podcast!
1:30 – What We're Watching: After Life, You vs. Wild with Bear Grylls, Santa Clarita Diet, The Rookie, Cobra Kai, Avengers: Endgame
To avoid spoilers for Avengers: Endgame, please skip from minute 9:00 to 12:25.
Stinger Topic of the Week: Game of Thrones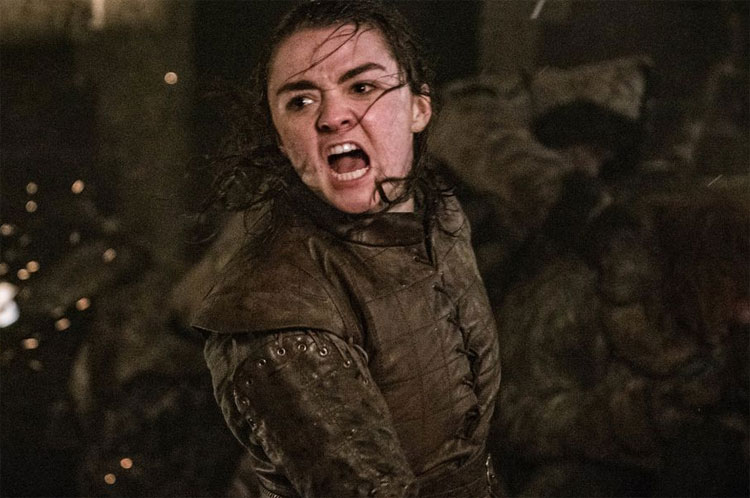 SPOILERS AHEAD FOR ALL OF GAME OF THRONES.
14:24 Discussion of Season 8, episodes 1 and 2 of Game of Thrones.
Shannon, Jeff and Jennifer discuss "fan service," Arya's sex scene, who's definitely going to die, lots of theories, and who might ultimately sit on the Iron Throne.
We'd love to hear your feedback! Chat with us online using #stingerpodcast! We're @StingerPodcast everywhere.