I absolutely adore the character Ruth Langmore, played brilliantly by Julia Garner in Netflix's Ozark. Her quick wit and sassy, nasty attitude continually made my mouth drop open while I laughed and cheered her on. Here are the best Ruth Langmore quotes from Ozark.
Be aware… Profanity ahead. 
Listen to our episode by episode discussion of Ozark on Ozark's Dirty Laundry Podcast!
Ruth Langmore is a 19-year-old local resident of Lake of the Ozarks. She lives in a trailer with her uncles and cousins, and in season two, also her Dad. Known by local law enforcement to be an up and coming criminal mastermind, she gets entwined with Marty's money laundering business after trying to steal from him.
Actress Julia Garner is from New York City and does not have a southern accent. You can see more of her in The Americans and the upcoming Netflix original Maniac.
Best Ruth Langmore Quotes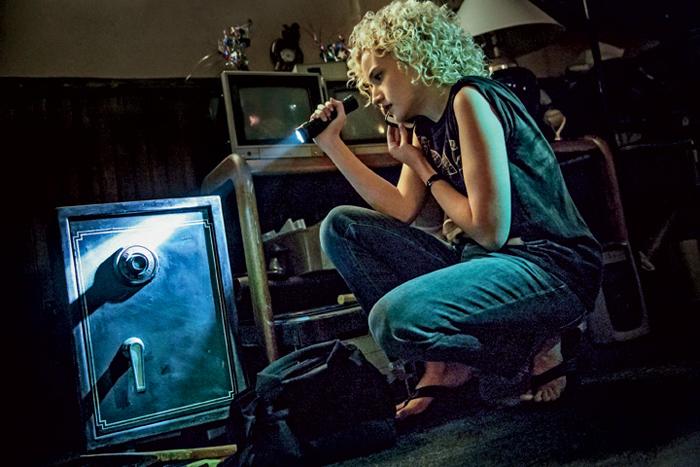 "Shut your fucknugget mouth!" — yelling at Russ.
"If I was kidding, I would've said you're witty and handsome." — to Russ.
"If you're a killer, then I'm fucking Snow White. And I don't see any dwarfs around." — talking to Marty.
"Sounds like you need to go fuck yourself. What you do is, you roll yourself into a ball or whatever, and you take your dick and you put it up your ass." — responding to Agent Petty's threats.
"How about I pop those tits and squeeze out the silicon" — yes, she said "silicon" instead of "silicone" to stripper Jade.
"I don't know shit about fuck." — when Marty wants her to take over the operation.
"I've got a pretty strong fucking stomach… Pardon my French." — talking to the funeral home director.
"This is your life. It aint fucking mine." — to her Dad when he asks her for an alibi.
What was your favorite Ruth moment in Ozark?